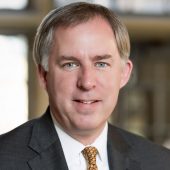 From the AVP
Hospitality & Auxiliary Services is an integral contributor and participant within the Wake Forest University community; each department interacts with, and impacts, our students, faculty & staff daily.
Future success will be defined, in part, by our ability to contribute to the goals and expectations of our active campus community and the extent to which we utilize the full creativity and innovative thinking of the people who comprise Hospitality & Auxiliary Services. The initiatives and new endeavors launched in recent years are helping streamline and improve processes from our bookstore to our dining halls. Through collaborations with other entities on campus, we are actively driving positive efforts in sustainability, mail delivery, and how we move members of our community from place to place.
This report will provide an overview of various Hospitality & Auxiliary Services projects and successes from the recent fiscal year, 2018-2019. As we work to provide an unparalleled campus experience for Wake Forest University at large, we will also strive to embody the spirit of Pro Humanitate in our everyday accomplishments.
John Wise
Associate Vice President, Hospitality & Auxiliary Services
336.758.2510
jwise@nullwfu.edu
Hospitality & Auxiliary Services focuses on delivering valued experiences, at the heart of those experiences is the Wake Forest campus community. By utilizing local partnerships and hosting collaborative events, we provide a variety of engaging programs that build community and make connections.
---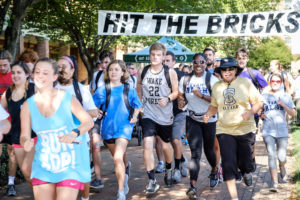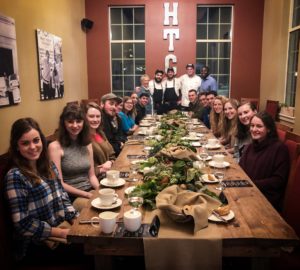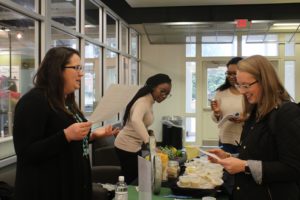 Events
Overview
Fundraising

. Since 2013, the University Bookstore has been a sponsor of 'Hit The Bricks' an eight-hour relay race that raises money for cancer research in honor of Brian Piccolo. Both individuals and teams participate, and the race includes friendly fundraising competition. Hit the Bricks brings the Wake Forest community together for a cause that has long been important to the community.

Supper Club

. Once monthly, the Harvest Table Culinary Team creates an exclusive five course dinner for a small group of students chosen via lottery. Guests are treated to true culinary creations and our chefs get to flex their creativity muscles and show off their culinary talents.

Global Foods Committee.

This resource brings together representatives which includes WFU students, faculty, staff & Harvest Table. This committee was formed to open discussions and share the diverse cultural & religious backgrounds as expressed through foods served on campus.

Gold Apron.

In support of the campus-wide Thrive initiative, Dining Services collaborated with The Office of Wellbeing and Campus Recreation to create "Gold Apron" cooking. This program sponsors weekly cooking classes that educate the university community on Performance Dining and encourages eating with purpose. This program has been attended by hundreds of students who have reported positive lifestyle changes after attending these sessions.
Enhancements
Dining
The true balance performance dining program features education, engagement, and individual counselling to support individual goals. While the focus of Performance Dining has traditionally been geared toward university athletes, Wake Forest Dining took a more inclusive approach and broadened the concept to include the entire university community. By focusing on plant forward dining, less meat but better quality meat & educational initiatives, we have changed the way our school views dining options.
Parking & Transportation
This year Parking and Transportation responded directly to requests from the campus community and Student Government to make adjustments to the Hanes Mall shuttle route. The team heard concerns that the one stop at Benson University Center was not convenient to the North side of campus. In response, the Transportation team added two additional shuttle stops to that route at Polo Residence Hall and parking lot W1. The team also listened when students asked for loading zones so that they could unload heavy items like groceries and sports equipment instead of lugging these cumbersome items on shuttles. We have also seen an increase in the usage of the carpool program which encourages faculty and staff to ride together to conserve gas and energy. In return, the participants are assigned a reserved parking spot in an eligible lot and the annual parking permit fee is waived.
University Stores
This year the University Bookstore partnered with campus faculty to provide information about the importance of early textbook adoptions and as a result, increased the number of professors who submit their textbooks orders in advance by more than 8% over last year. This a small but promising change that contributes toward the goal of textbook affordability and student success. The bookstore team has also rolled out a new website and e-commerce platform to make finding books easier and more streamlined. More used and digital textbook options are also being made available to students and faculty in an effort to offer a spectrum of affordable options to our university.

COLLABORATION
Asian Menu Development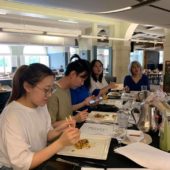 The Asian Menu Development event was extremely meaningful to our Asian student community, both students and colleagues alike. In an effort to hear from their customers, Aramark and Harvest Table wanted to engage with our community in a focus group style setting. Their openness to feedback, and their willingness to take constructive advice, affirmed what most underrepresented groups hope for: a chance to be heard. All of the participants shared their appreciation, for the wonderful food and fellowship. Going forward I hope that our colleagues in Aramark and Harvest Table continue to engage with our community, out of a sign of mutual respect and engagement.
Dr. José A. Villalba
Vice President for Diversity & Inclusion
Chief Diversity Officer
Grateful to @deacondining for setting up this Asian Recipe Development Program for our students, faculty, and staff. And thank you, #htculinarypartners, for making the time and space to engage with our students in particular. Inclusive and equitable practices are complex, but they aren't always complicated.

– Quote from ODI Facebook Page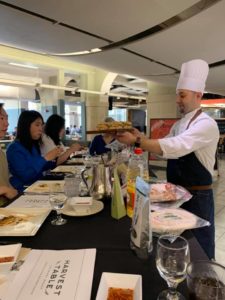 Financial & Operational Highlights
---

UTILITIES
Electricity
Across the metered dining locations (Benson, The Pit, North Dining) there was a reduction of
11.7% ⇓
in electricity usage in FY 18/19 from 17/18 for a total reduction of almost
400 KwH
This is the equilivalent of 282 metric tons of CO2 emissions that were avoided & a University savings of
$28,000
The difference in energy usage would be enough to power an average American household for more than
38 years
---
Water
Across the metered dining locations (Benson, The Pit, North Dining) there was a reduction of
9.6% ⇓
in water usage in FY 18/19 from 17/18 for a total reduction of
1,037,013 gallons
The difference in water usage would be enough to supply an average American household for more than
28 years
DINING
Sushi replaced Take Two in Benson University Center which lead to a 237% increase in transactions over the last year.
Take Two
2018
---
Transactions
6,628
Sushi
2019
---
Transactions
15,738
Village Juice replaced The Bistro at North Dining Hall which lead to a 33x increase in transactions over the last year.
The Bistro
2018
---
Transactions
621
Village Juice
2019
---
Transactions
20,892
Dining
Overview
Wake Forest dining increased the amount of food purchased from third-party verified (TPV) sources from three percent in 2015 to more than 30 percent in 2018. Animal proteins like poultry and beef have the highest resource requirement of any of the foods we eat. They are also the most costly. We've taken action in these high purchase areas to reduce negative effects of inhumane animal production. Partnerships were forged with producers like Murray's Family Farm for TPV-certified humanely raised and handled poultry and Brasstown Beef for Global Animal Partnership (GAP) Level 5 grassfed beef. Focusing on buying higher quality proteins was just the start of Deacon Dining's expressed commitment to responsible sourcing.
Complementing Wake Forest's commitment to culinary excellence, Performance Dining, or Eating with Purpose, is a hallmark of Deacon Dining. This framework promotes fueling your body and mind with the macro and micro nutrients it needs to perform– placing an emphasis on an abundance of nutrient-rich fruits, vegetables, and plant proteins.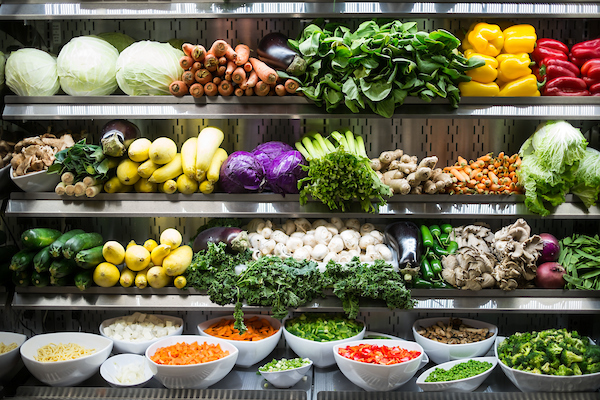 Parking & Transportation
Electric Vehicle Charging Stations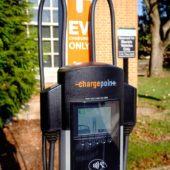 July-June
FY 19-YTD
---
Energy Used (kWh)
21,763
Gasoline Savings (gal)
2,732
July-June
FY 18-YTD
---
Energy Used (kWh)
6,233
Gasoline Savings (gal)
782
Fleet Fuel Efficiency
---
Managing an ever growing fleet of vehicles requires diligence in mantaining fuel efficency. As a result of this careful management we have been able to increase our overall FFE by 36%.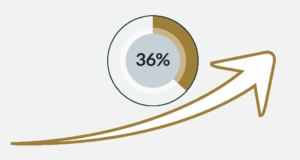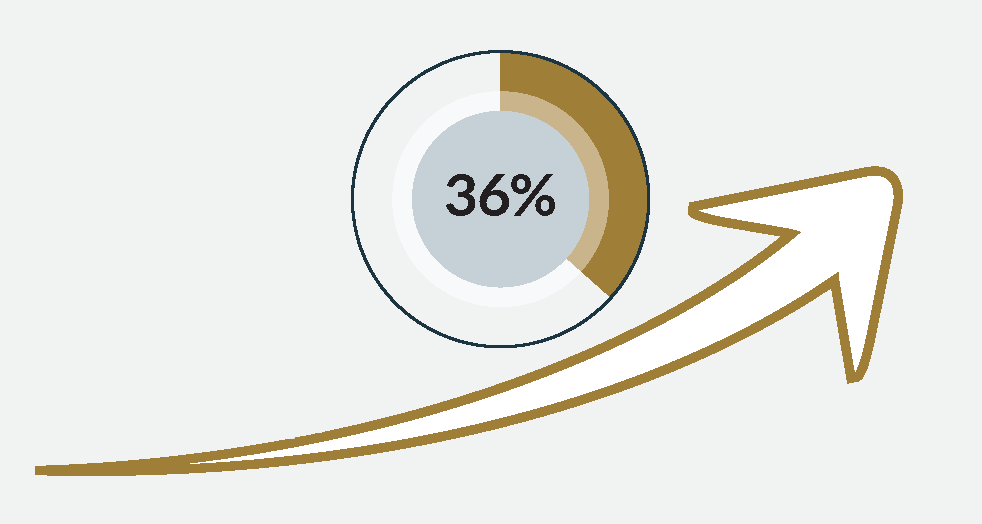 Transportation & Parking
The addition of an electric vehicle for parking enforcement.
Vehicle averages 197 mpg.
Fuel consumption
Dec 2018-June 2019
12 gal
Range of 1,437 miles =
120 mpg
Mail Services
The addition of an elctric hybrid for on campus mail delivery.
Vehicle can travel an estimated 22 miles on a single charge.
Fuel consumption
April 2019 -June 2019
0 gal
Miles driven on electric power
342
University Stores
---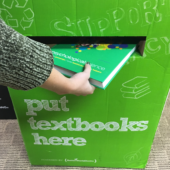 Donations
2018-2019 FY University Stores facilitated the donation of 1,921 used textbooks to Better World Books, which donates a percentage of it's profits to literacy programs around the world.